Our daughter had been asking for a family beach vacation for months and the beaches she most wanted to visit were in the Maldives. A luxury lifestyle Instagram account had worked it's marketing magic on our girl and made her eager desperate to visit the perfect beaches of Maldives.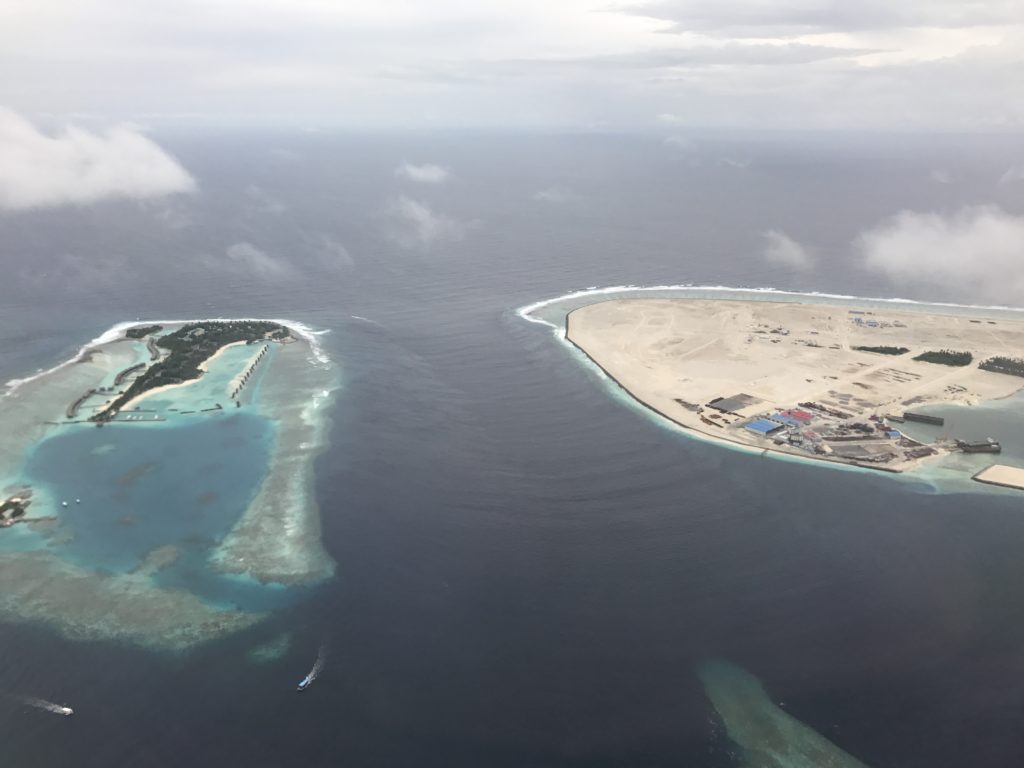 Enter the 1st Act | Fetishism
Now, we are comfortably poor travelers, however, since we currently live in Asia, a beach trip to Maldives is much more affordable and accessible. So, at Christmas, we surprised our daughter with a new bather and fedora, which confused her a bit as as she had asked for neither. As soon as she opened the envelope containing her 'experience gift', the swimsuit and hat made much more sense. Inside the envelope was a notecard that said she was getting her dream family beach trip to the Maldives.
2nd Act | Transmigration
When we arrived over Maldives and we saw the clear blue ocean rings around the atolls, our daughter absolutely screeched with joy. We grabbed our backpacks and took a boat from the airport to the downtown Malé area where we had a tiny and forgettable meal for $80 USD. We got Maldivian money from an ATM and we don't recommend it to other travelers as USD is a better choice. At one bank, our ATM funds did not actually come out, but was deducted from our account. After a year of travel, this was a first. We feel fortunate to use Charles Schwab who after our writing a detailed email, promptly returned the money to our account while they investigated further. It took nearly 2 months for our bank to agree that we indeed had not received funds, so it worked out.
We also purchased 2 Sim Cards while on Malé. We knew that Dhiraagu SIM Cards at the airport were priced 50% higher than in town. After finishing our necessary tasks, we hired a taxi driver to show us around Malé. We were glad we did the quick taxi tour of Malé, as this is where most Maldivians live. After a nice ride around the island, we had our taxi drop us at a market. We picked up a few grocery items and supplies for the week, a smart move since Maafushi had only limited options.
Details of the Family Beach Trip
Arrival: Malé International Airport
Plane tickets: (COK ->MLE) cost about $100USD each
Prebook transport to Destination Island: Our scheduled speedboat arrived 3 hours after arrival on Malé
Taxi tour of Malé: 200 MVR / 13USD
After a 45 minute/17-mile boat ride, we were on Maafushi, an inhabited island with a population of about 2,700. We were picked up via oxen cart powered by a youthful male human. We wondered if we were supposed to ride on the cart with our luggage – we were not – whew, that would have been weird and embarassing!
Staying on an inhabited island like Maafushi means living alongside the absolutely lovely locals and spending less money on accommodations (that's cool). Alcohol consumption and importation is prohibited on inhabited islands and bikini wear restricted to 'bikini beach'. Resort islands are more expensive, private, boozy and western in general excepting nudity. We chose to stay with the locals, dress modestly and drink nonalcoholic beer and cider for a week.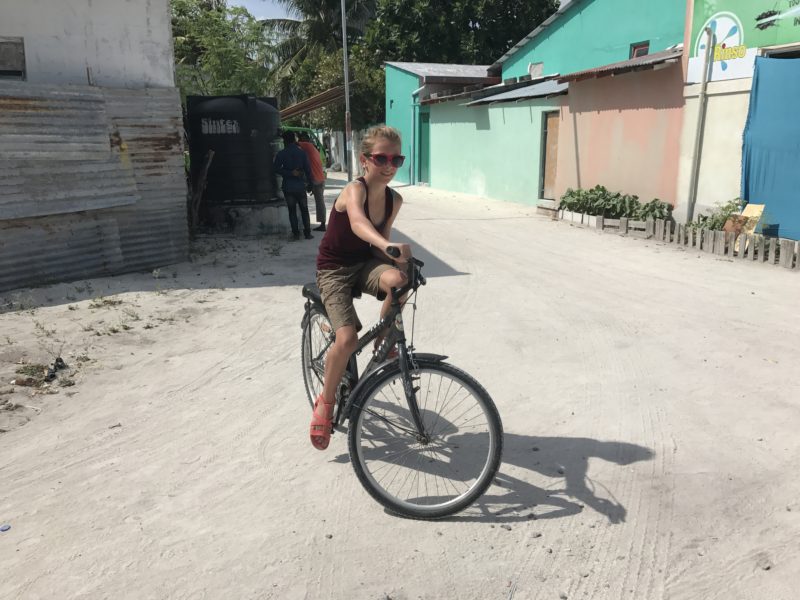 3rd Act | The Positivity Act aka The Scientific Method Act
Our Kids Ratings of the Maldives, Maafushi
Our Daughter liked Maldives. She had imagined our family beach time at a resort staying in one of those houses built over the water. However, she concluded that staying on a non-resort island sounded more fun for us. Our daughter is also fantastic with money, so she saw the financial advantages to staying on Maafushi.
I'm sure she was happy to learn that she is not very tempting, snack-wise, to the fish. Because she could see the bottom of the ocean, she felt safe. Snorkeling was better than expected and she definitely loved seeing turtles swimming in the ocean. Our daughter is a competent and capable ocean swimmer and loves a family beach day; however, in the end, she says she prefers swimming in pools. Collecting shells, of which there are heaps in Maldives, was one of her favorite things.
Our son is at home in the water, ocean or pool, but found the ocean to be too cold. In total, while snorkeling, he probably swam a mile and he took in a bunch new data while exploring the ocean. At the end of our day of snorkeling, he seemed as emotionally tired as he was physically tired. On our final day, we rented bikes and both kids enjoyed biking around the island. Our son loved the options available on the buffet meals and really likes being able to serve himself. The sand in Maldives is lovely, and he spent hours contentedly playing in it.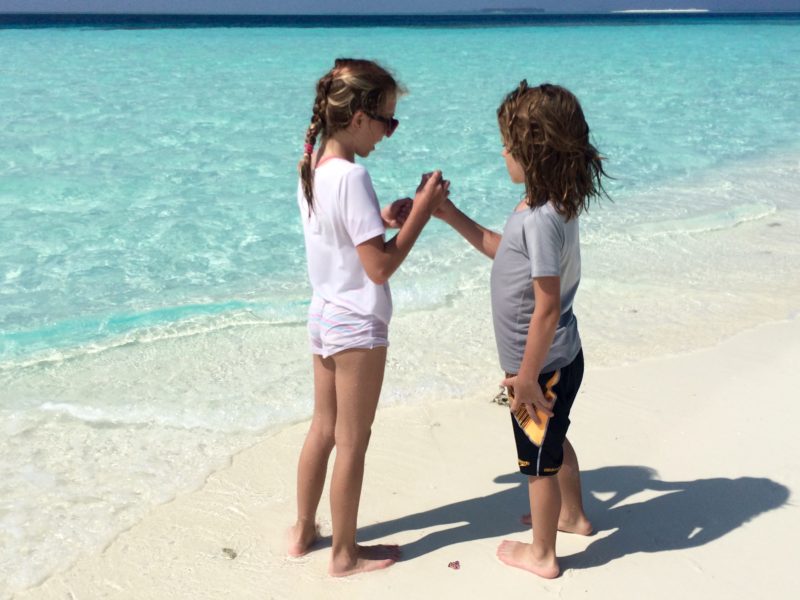 Next time…
When we return we will make sure to visit when the whale sharks and mantas are likely to be around. Swimming in the water with a whale shark would be an unforgettable thrill. We plan to visit a resort island on our next trip to see what that's all about, you know, for research. One day, when we all have our scuba certifications, we want to stay on one of the further out and well-rated diver islands.
All in all, as far as family beach vacations go, Maafushi was a great choice for us. We had a lovely time on the island. I will say, we were excited to head off to our next destination, Sri Lanka, where we could enjoy the wonderful taste of a frosty cold beer.
Thank you for reading about our journey to the Maldives!
Reference: Auguste Comte – The Course in Positive Philosophy