Our family spent 6 days in Maafushi Maldives, which was lovely. Since our kids aren't massive divers or full-on water enthusiasts yet, 4 days would have probably been sufficient for our family. We did have a wonderful and relaxing time and did manage to find ways to fill our time in the water and on land. I recommend reading our winning tips for Maldives here if you're planning a visit.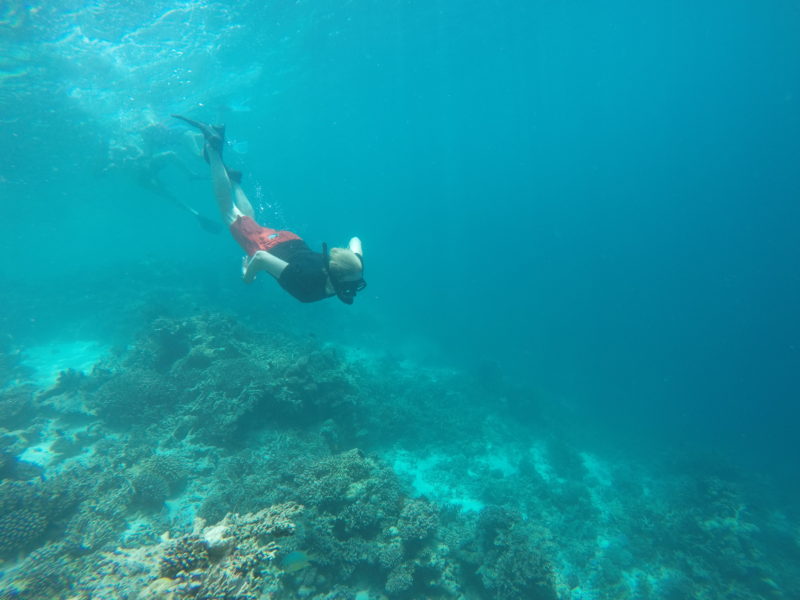 Snorkeling
On our first full day on Maafushi, we went out with a group of about 16 other people on 2 boats and visited various ocean spots that promised dolphins, turtles, coral reef, and colorful fish. One of our stops was on sandbank for lunch. The company that took us out provided a styrofoam box lunch which included a thin white bread sandwich, fruit and sugar drink.
Ocean Tubing, paddle boarding and a kayaking
We got a package that included all three activities spread out over a few hours. We wanted to be on the water, but the kids were burnt out from the day of snorkeling, so this was the happy compromise. Ocean tubing is rough and I would recommend avoiding it if you have back or neck issues at all. We didn't receive much guidance from the local water sports staff at any point during our visit. If you don't exactly know what you're doing on or in the water with these toys and tools, I recommend playing it conservative.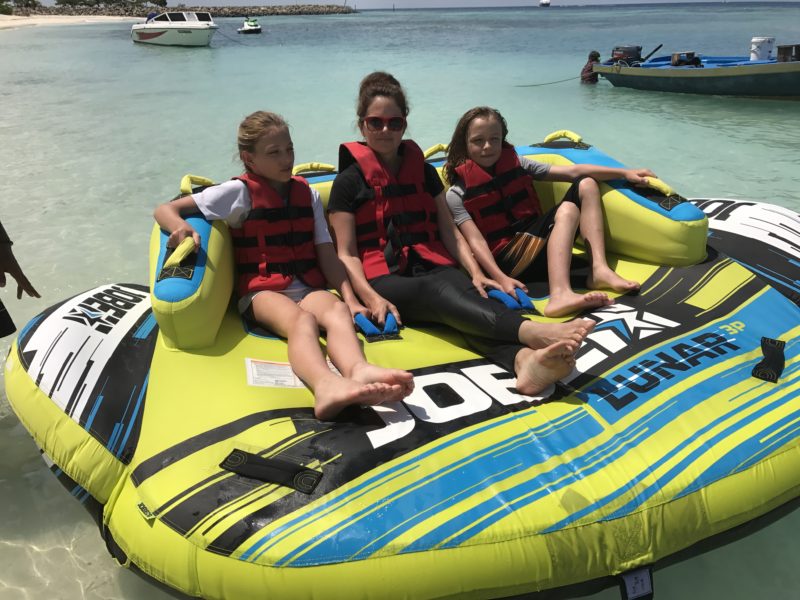 Biking around the island / AKA Family photos day
By day 6 we were all getting a bit bored of being on a tiny island and we didn't want to do anymore guided water activities. Therefore, on our last day on Maafushi, we were glad to discover that the Arena Hotel could rent us bikes. The bikes were in pretty bad shape, some were missing pedals and every one of the bikes had some sort of maintenance need, but they worked. So, we rented a double bike (see below pic) and 2 additional bikes for about $15 USD or $5USD /each. For an hour or so, we rode around the island, stopping regularly to pose against colorful walls and doors.
The Floating Bar of Maafushi Maldives
Twice, we took a speedboat out to a permanently docked vessel known as a floating bar for lunch and drinks. The boat is managed by the Kaani Beach Hotel, so if you want to visit the Kaani Floating Bar, you must go to the hotel and let them know at reception. Reception will call the speedboat to pick you up from the nearby dock. The Kaani boat stocked beer, wine and some liquor, but for us, it was just something different to do.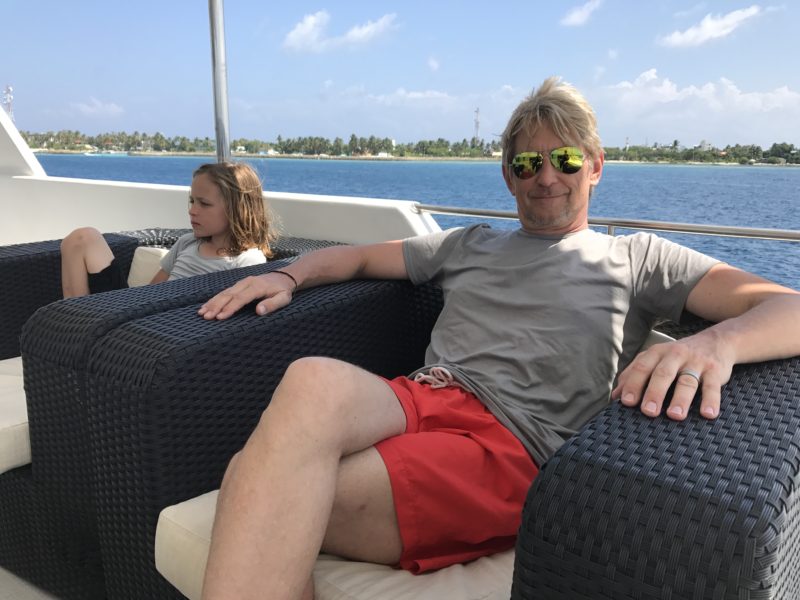 Buffet dinners
We enjoyed a nice buffet under the stars at the Arena Hotel, four out of our six nights on Maafushi. The Arena had great music playing, soft candlelight and lamps scattered about, and plenty of food options for everyone. Tables in the sand are pretty wonderful!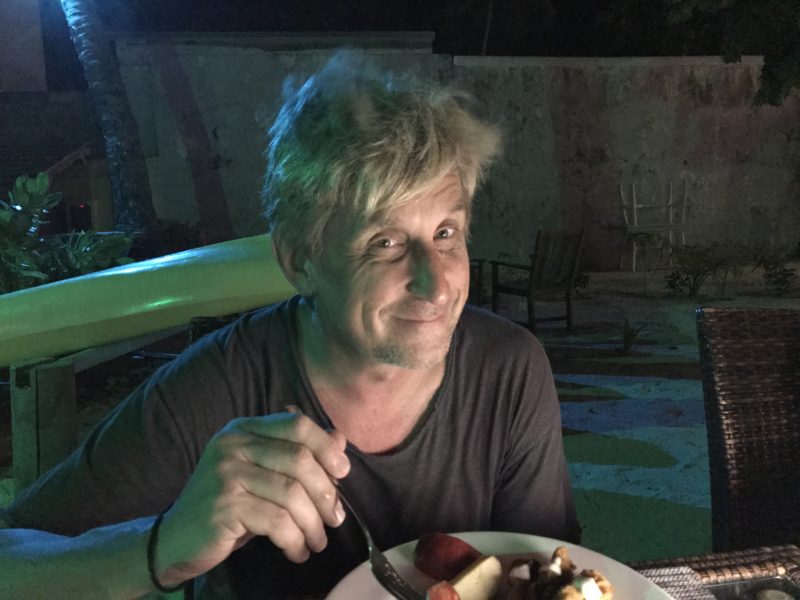 Collecting Beach Trash
Especially important to us as tourists is to 'Leave no trace' – even when its other peoples mess. Trash does increase from tourism and the oceans do their part to wash up trash from countries far away. The trash on Maafushi also comes from the locals, through construction waste and also from locals simply throwing their wrappers, bottles and cans on the ground. Still, however the trash arrives, we try to do our part to leave our travel destinations a little tidier. I brought a dozen bags with me and picked up 2 bags worth of trash everyday on Maafushi, tidying the island a little every day.
Seashells and Sand 
And finally, we played in the sand – a lot! There are loads and loads of seashells to find in the Maldives and the sand is fine and wonderful. Our kids spent hours collecting, cleaning and studying shells. They found many Cowry shells. The cowry 'money' shell was the currency of Maldives, Asia and Africa hundreds of years ago. On our last day on Maafushi, we took the shells back to the beach for the hermit crabs (Book Recommendation: Pagoo by Holling Clancy Holling) and for other people to enjoy.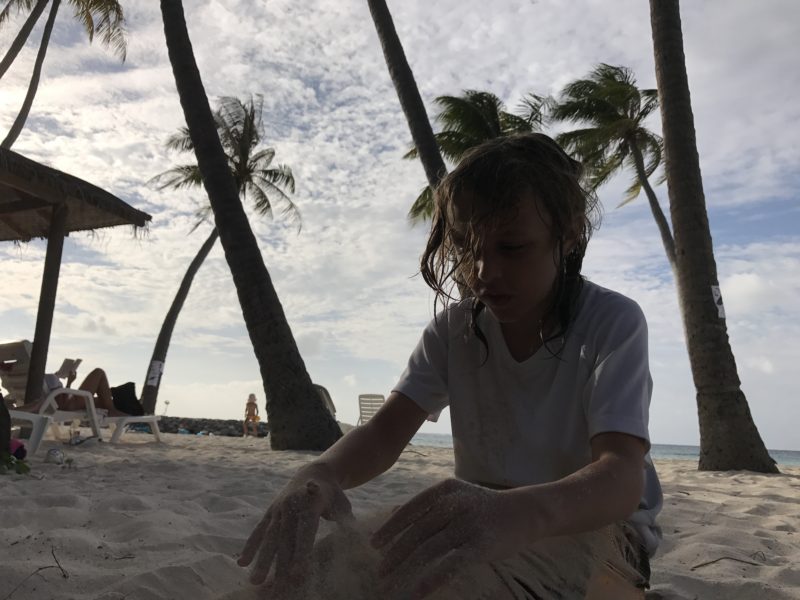 For more info on Maafushi or Maldives I recommend starting here.
xo – Bar