Brunei wasn't really on our list of countries to visit when we came to Southeast Asia. We decided to visit Brunei, mainly because the plane tickets were about $30 from Kuala Lumpur. Brunei also seemed like an easy destination that wouldn't require much advance planning. We planned a four day stay in downtown Bandar Seri Begawan. Here's a list of our winning tips of what worked and what didn't work for our family during our visit to Brunei.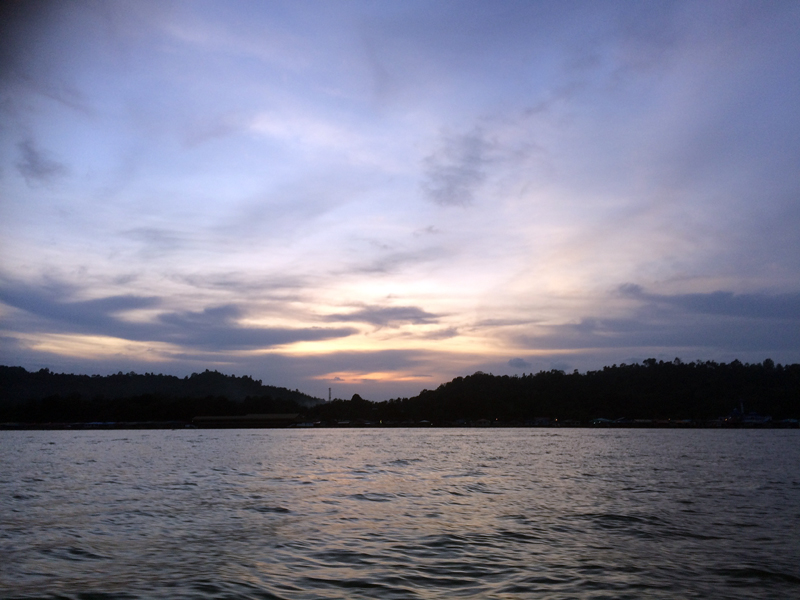 Brunei Visitors Guide – Travel Ups & Downs
Brunei – What Worked for Us?
The Food
Finding great food in the city center of Bandar Seri Begawan was not a problem. We walked around the city center, as there are no cabs or ubers to speak of. We had every meal out since we were staying in a hotel. Our favorite meal was at Kaizen Sushi where we enjoyed seriously fantastic sushi. The food at Kaizen is brilliant and the waterfront views 'almost' make you to forget that you aren't enjoying a delicious sake or a Sapporo with your sushi.
Piccolo cafe was nearby and was a place that we visited daily for a quick meal, a cold beverage and a break from the heat. Piccolo had games for the kids and good air conditioning. Our kids loved the peanut butter and banana waffles!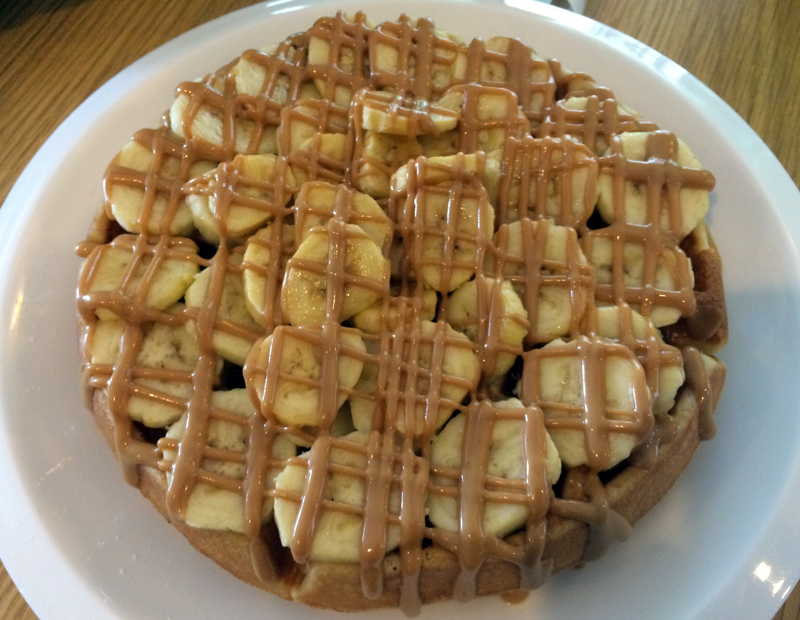 The restaurant at the Brunei Hotel where we stayed served these warm and comforting claypot meals on their full menu. Even the room service at the Brunei Hotel was excellent. We also visited Italian and indian restaurants during our time in Brunei as well as the most popular spot in town, the Coffee Bean & Tea Leaf. Every restaurant visit was enjoyable and the service was always welcoming and accommodating.
It's Okay to Play in Brunei
We spend much of our time in Kuala Lumpur which is not a very playful city. Guards blow whistles and wag their finger at us when we try to play in the city. The contrast between KL and Brunei was amazing. My daughter and I were walking onto retired cement docks, doing gymnastics in public spaces and not one person told us to stop or looked at us disapprovingly. We received many smiles when people saw us spinning on rails or balancing on bars.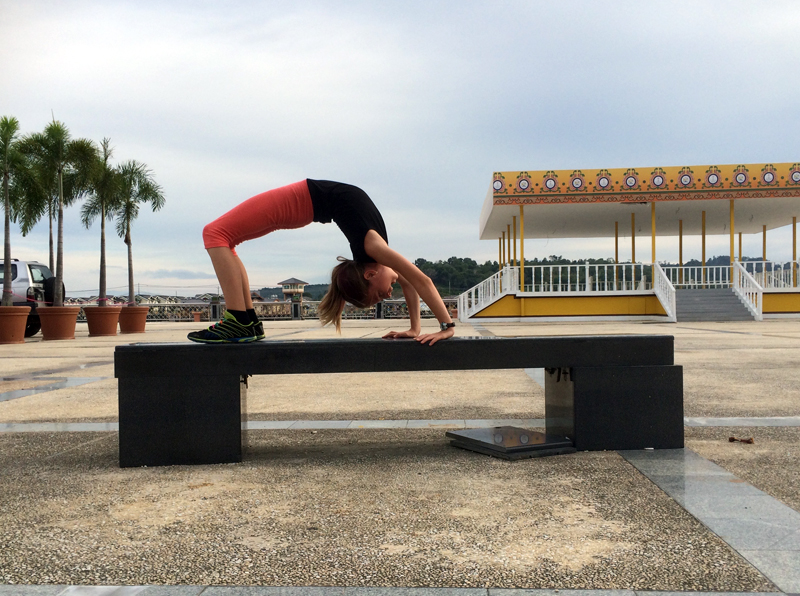 I should mention that we don't do anything that would be harmful to us or public property. It helps to be creative when it comes to fun and exercise in urban city centers, and we were thrilled that the people in Brunei are super easy going.
Generous Duty Free
Non-muslim visitors to Brunei are able to bring in a couple of liters of alcohol from duty free into Brunei. You will need to make your own cocktails in their room, but at least you can have a cocktail if you so desire. Brunei's duty-free allowance is quite generous compared to most other Asian countries.
Boat rides
Scenic rides around the river are a must. The river boats will take you past homes, schools, mosques, city buildings and  mangroves. We hired a boat to show us around the river. We didn't communicate much with the driver, but there was really no need. The breezes on the boat offer some relief from the temperatures. Next time we visit Brunei, we'll spend more time on the boats and try to stop at a few of the river stores and eateries. There is so much to see on the river and the costs are reasonable, plus you get to be on a boat!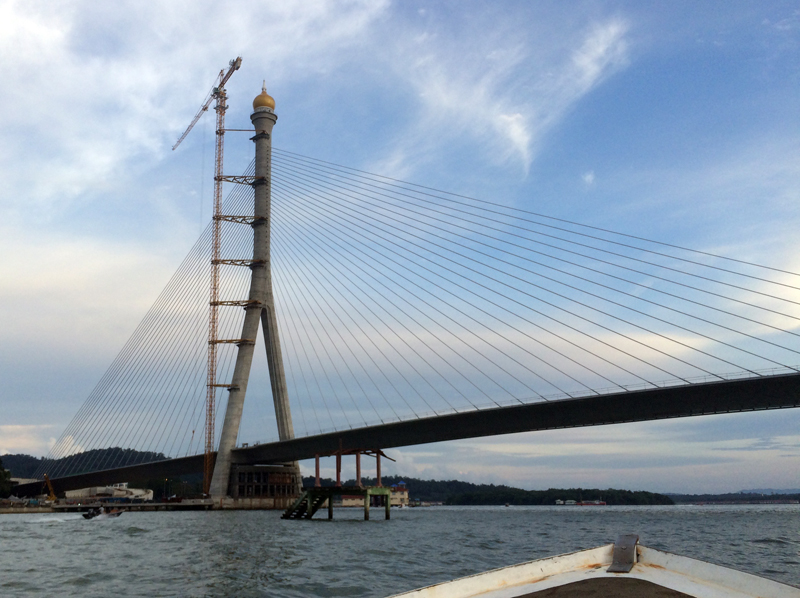 Sunday Market / Fair
The locals started doing a Sunday market to appeal to us westerners, I heard. It's a sweet market with many stalls selling new and used items and food. The stalls are set up between the Coffee Bean & Tea Leaf and the Mosque. There's an outdoor arena of sorts where visitors can rent bikes and ride around the track. We had a fun time riding bikes in the ran and stopping at the stalls. Most of the foods we saw were fried, so there wasn't anything for us to eat, but if you like fried food, you will be in heaven as the prices were fantastic!
Brunei – What Didn't Work for Us?
We really liked Brunei and had a great time in Bandar Seri Begawan. The people are sweet and easy going. There is very little pressure in Brunei and it's easy to relax and goof off. We've read from others that the city can get boring, but we had a great time exploring and enjoyed the downtime that comes with a slow-paced city.
Shorter Stay
When we visit Brunei again, we will stay 3 days / 2nights rather than the 4 days / 3 nights we stayed for this trip. Even though we enjoyed ourselves, we were ready to head home after day 3 because we had hit most of the sights. We visited a museum, a mall, the mosque and we walked around downtown many times over. There's not enough going on in the city to keep a family out and busy all day. Not a bad thing, but after 4 days in a cozy hotel room, we were ready to move along.
Hiring a Car is Tricky
Ubers and Taxi's are not easy to find. We wanted to visit the night market, but it was quite far from the city center of Bandar Seri Begawan. We were able to find a driver in a back alley (what could go wrong?) that was willing to take to the market. Fortunately, the driver was willing to wait at the market, while we made a quick lap around. We concluded that finding a driver to take us back downtown from the market would've been impossible. Sadly, because finding drivers was so difficult, we were not able to visit other areas outside of the city center like Brunei's Chinatown.
Brunei – Wrap Up
If you're planning a visit to Brunei, I recommend that you go with correct expectations. The economy in Brunei isn't really structured toward tourism, which is wonderful and confusing at the same time. You won't be hassled to buy anything in Brunei. Stalls and shops that sell travelers don't really exist outside of the airport. I loved the absence of hawkers and commercialism. It did feel strange but it actually seems that Brunei exists for its people and not the visitors, and that's kind of lovely.
– xo Bar