I never really expect natural homemade recipes to work. When they do, which is more often than not, I am always blown away by how much better they are over commercially available products. Homemade products are also WAY cheaper. Even if it cost more to make homemade hair and body care products, the fact that they are so MUCH better than the commercial versions makes it worth doing. The following natural homemade recipes are so good that they are worth sharing. Please try and enjoy! You will never need or want to visit the chemist or beauty aisles again.
We're minimalists so we don't have a ton of kitchen tools. A shot glass works for ounce measurements. I love recipes that I can make without measuring tools so I didn't use any for these recipes. Eyeballing measurements seems to work just fine and the finished products turned out great.
Healthy Homemade Recipes | Natural Hair Products that Work
Hair Pomade | Healthy Homemade Recipes
This pomade recipe is easy to make and the final product works brilliantly. It's a nice, natural pomade for taming flyaway hair. I use this natural pomade to create a clean ballet bun. Dancers need to have perfect buns, but few dancers want to wash their hair after every class. Hairspray, gel and commercial pomades leave hair dry, smelly, and weird if not washed out. In fact, using this natural pomade and leaving it in, helps nourish and soften hair. In my experience normal and virgin hair will not look greasy the following day after using this pomade. Found on Mommypotamus
1 ounce organic beeswax
1.5 ounces shea butter
2 ounces jojoba oil – This is a "dry" oil that keeps the formula from being too greasy.
1/8 – 1/4 teaspoon essential oil
Hair Butter
If you have medium length or long hair, you will want to replenish your hairs dry ends. The sun, wind, swimming and excessive washing, to name a few, can create hair that is dry and unhealthy. I have tried coconut oil, argan oil, olive oil, and many other things to halt the damage and bring back some shine. None worked exactly as I wanted and those products left my hair greasy and limp.
In a hurry one day, I put the nearest jar of Shea butter and put it in my daughters hair before we rushed off to her class. For days, she raved about her hair. She loved that she could run her fingers through her hair without them getting caught. We seemed to have found a winner. Adjust the oil and Shea butter to your hair type and liking.
2 ounces of Argan, coconut, jojoba, olive or favorite hair oil
1.5-2 ounces of Shea Butter to finish and seal in the moisture
Healthy Homemade Recipes | Natural Body Products that Work
Luscious Lip Treatment Recipe
This amazingly simple recipe for Homemade Chapped Lip Balm is from Frugal Granola's e-book, Herbal Nurturing: A Family Healing and Learning Guide found online at Food Renegade.
1/4 cup Coconut Oil
1/4 cup Olive Oil
1/2 cup grated Beeswax. Grating the wax is the most difficult part.
3-5 drops of natural extract or favorite essential oil such as mint or lime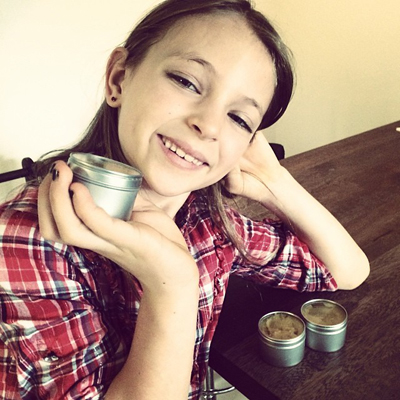 Age or Dark Spot Gel for the Face and Body
Apply this gel in the morning and evening just before applying facial oil. After 2 months of daily use I was convinced that this stuff was awesome so I started using on my husband. He loved it. This a nice treat for the face, neck and décolletage and it's simple and easy to make. Store in a dropper bottle or other small bottle.
3 parts aloe vera gel
1 part natural vegetable glycerin
More natural, healthy homemade recipes to come! Do you have any favorites that you can share? Comment below.
xo – Bar