I used to be more of a last minute packer. Packing for two kids and a meticulous husband, has forced me to embrace planning and lists. A good camping list should be revised after every camping trip, noting what worked, what you ran out of quickly, and what items went unused. This particular camping with kids packing list is meant for the easy, fun, family camping trip. The main goal behind this list is to create happy campers. We want our kids to enjoy camping so they will be up for future camping adventures.
Tip: Prep a meal for the first night of camping and precook as much as possible, leaving only the need to warm foods.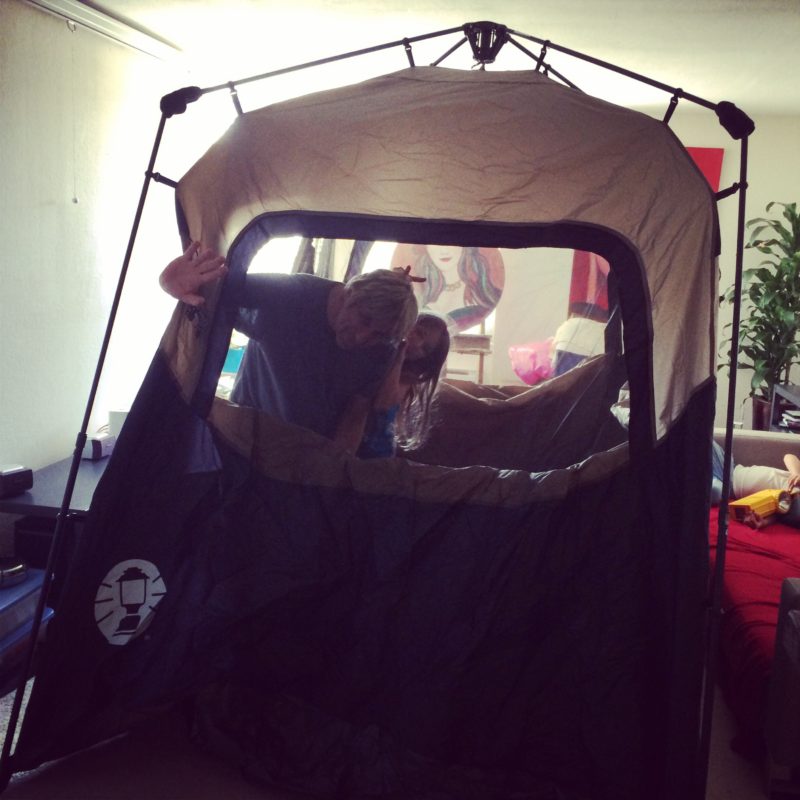 Tools and Food Preparation | Camping with Kids Packing List
Groceries
Grocery List: small tomatoes, strawberries, pita bread, red pepper, limes, lemons, Kombucha, Cheese, olives, Gluten-free bread, cream, salt, pepper, Mayonnaise, oranges, cereal, greens, carrots, avocado, chips, chocolate, marshmallows, grahams, fresh squeezed juice, dry green drink mix, psyllium, coffee, two growlers of cold water, one large mason jar of ice, Wine and beer.
Weeks before departure – Food Prep
Choose foods that clean up easily. I like to bring hummus or babaganosh, almond milk, muffins, pre-cooked grilled steaks, bacon, or deli jerky, pre-made pancakes or french toast, pickles, trail mix, nori sticks, crackers, energy bars, Popcorn, and ham & potato hash. If you want to create more fabulous camping meals and have access to a dehydrator, you absolutely must check out the Backpacking Chef.
Tip: Spend the final night of your camping holiday in a hotel. It's wonderful to be clean and fully rested on that last day before returning to work and our regular schedule.
General Tools
Bug Repellent – Homemade repellants
Sunscreen – Coconut oil, thin long sleeved shirts and hats during peak hours will also work.
Frisbee, Ball, archery kit, cards
Brush for sweeping
Microfiber towel for clean up, general purpose. Dries quickly.
clothes pins
Bungee cords
2 small blankets
3 camp chairs
Castile soap
Sunglasses for all
Sleeping bags
1 down blanket in a stuff sack
4 pillows
1 roll of toilet paper
Small first aid kit
Headphones
HDMI cable
A/C Inverter
Computers – loaded with content depending on stay and length of drive
Costco Card for petrol
Camping table. We use our camping table and chairs on our balcony so they aren't left idle in storage
Collapsible Chimney Starter or firewood depending on campsite regulations
Firestater cubes if no firewood allowed
Kitchen Tools
Tongs for grilling
Knife
1 Pan
Silverware for each family member
3-4 water bottles for the car ride and adventures
Stainless steel cups, plates, bowls and straws
Aluminum Foil
Reusable shopping bags
Compost bags for those times when burying compost is difficult
Kettle or use the above listed pan
Coffee press
Leatherman
Soda Stream. We really enjoy sparkling water and bring along on longer trips.
Tent Camping
If there will be swimming
24-hours before Departure | Charge Coolers, Batteries and Tools
If you have a refrigerated refrigerator, you'll want to plug it in the night before packing up your vehicle. Our Kooltron was a splurge that allowed us freedom from melting ice and ziploc bags. Also, make sure to recharge all rechargeable batteries for flashlights, etc.
When our kids were younger and still getting comfortable with sleeping outdoors we would do smaller camping visits and spend every second or third day in a hotel. If your kids are already master campers and into more adventurous camping, you are going to need another list, and hopefully so will we soon. If you find the next-level of camping with kids packing list, please do share!
xo – Bar