As parents, one of our greatest resources is a good book. My husband and I used to say that having kids is getting new roommates every 6 months to a year. Children may need entirely new wardrobes and shoes every few months, and about every 6 months to a year or so when you are not at all prepared (Surprise!), they enter new emotional territory. It is unnerving to be caught off guard and be unaware of a development cycle your kid may be going through. Parenting books can save your sanity and fill you with knowledge, love, patience and understanding.
Here are some of what I consider the best parenting books:
Hold Onto Your Kids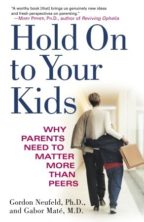 Hold On to Your Kids helps us understand the significance of the parent-child relationship over the peer/child relationship. We learn why the parent relationship should be the primary relationship and how to retain that important attachment and trust. An important book full of insight and effective strategies for keeping and restoring the parent-child relationship.
Visit, Neufeld Institute for additional resources.
Protecting the Gift: Keeping Children and Teenagers Safe (and Parents Sane)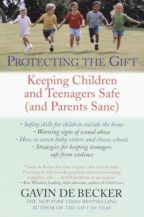 Protecting the Gift: Keeping Children and Teenagers Safe, is probably the most important parenting book that I read as a parent. I am so grateful for this book. I think of it regularly. Thanks to this book, I don't obsess over all of the unlikely danger scenarios that other parents might worry about because of this authors fantastic work.
Protecting the Gift brings critical thinking to parenting fears and helps the parent prepare for the more probable risks and learn about risks that are mostly unlikely. I recommend this book to parents, guardians, and other caretakers. As an aside, though it offers no training in self defense, the principals or thinking that comes across in the book,  also made me enjoy this book as a martial artist – it just made sense to me.
No More Nagging, Nit-Picking, and Nudging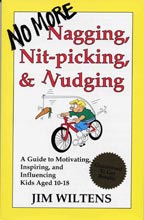 No more Nagging, Nit-Picking, & Nudging is perhaps a lesser known book but it shouldn't be. If you have a preteen or teenager, this is your book. The author has a great deal of respect for teens and works to help us adults understand where their teens are at while giving us some fantastic tools for communication.
Communication and understanding seem to be a central focus in this book. Since I think communication is the make or break it feature of any relationship, I find this book extremely useful.
The First National Bank of Dad: The Best Way to Teach Kids About Money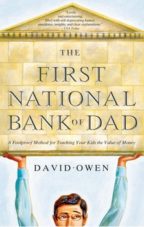 We started giving our kids a decent allowance at age 3 because of The First National Bank of Dad. By age 6/7, my daughter was making sophisticated consumer choices with her allowance. Our son by age 6/7 was considering return on investment of his toy purchases. By merely having a reasonable allowance, our kids have, at a young age, been able to negotiate many economic positions from a state of plenty rather than from a place of want.
I rarely meet another parent who is in favor of a healthy allowance. Most parents I speak to are worried about creating a consumer driven child by giving their kids a decent bit of spending money regularly. From my experience, deprivation of cash does does not train economic intelligence.
Give your kids a decent allowance and allow them to make their mistakes now when financial mistakes are smaller and much easier to fix. This book continues to reward our children.
Raising An Emotionally Intelligent Child The Heart of Parenting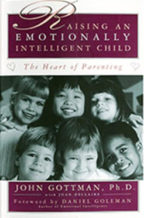 Raising an Emotionally Intelligent Child by John Gottman is "about parenting with relationship in mind". Not only a book about parenting, but also about being respectful of each other, creating a healthy relationships and being a good human person to other human people. I found this book to be accessible and full of effective strategies for creating and restoring the parent-child relationship. This book is great if your child is 2 or 42. Incidentally, I found a DVD lecture on the book/subject by Dr. Gottman at my local library.
Not to mention you can find lectures from the Gottman Institute and Dr. Gottman on YouTube. His talks are very enjoyable.
Additional Parenting Books
Child Development
What to Do When Your Temper Flares: A Kid's Guide to Overcoming Problems With Anger
The Explosive Child – Ross Greene
Children Who Are Not Yet Peaceful: Preventing Exclusion in the Early Elementary Classroom – Donna Bryant Goertz
The Boy Who Was Raised as a Dog: And Other Stories from a Child Psychiatrist's Notebook – What Traumatized Children Can Teach Us About Loss, Love, and Healing – Bruce Perry, Maia Szalavitz
What to Do When You Worry Too Much: A Kid's Guide to Overcoming Anxiety – Dawn Huebner, Bonnie Matthews
The Highly Sensitive Child: Helping Our Children Thrive When the World Overwhelms Them – Elaine Aron
He Hit Me First – Louise Bates Ames
If the Buddha Dated: A Handbook for Finding Love on a Spiritual Path – Charlotte Kasl
The Wonder of Boys  – Michael Gurian
Parenting
Bringing Up Bébé: One American Mother Discovers the Wisdom of French Parenting – Pamela Druckerman
How to Talk So Kids Will Listen & Liste​n So Kids Will Talk – Adele Faber, Elaine Mazlish
The Oxytocin Factor – Kerstin Moberg
Teach Like a Champion: 49 techniques that put students on the path to college – Doug Lemov
Dance of Attachment – Holly van Gulden
Simplicity Parenting: Using the Extraordinary Power of Less to Raise Calmer, Happier, and More Secure Kids – Kim John Payne, Lisa M. Ross
Playing Smart – Susan Perry. Things to do with kids to improve their physical, social, emotional and academic intelligence.
Healing the New Childhood Epidemics: Autism, ADHD, Asthma and Allergies – Kenneth Bock
It's Okay not to Share: and other renegade rules for raising competent and compassionate kids – Heather Shumaker
Race
Can We Talk About Race – Beverly Tatum
Dear America: the Diary of Dawnie Rae Johnson – Andrea Davis Pinkney (12 year olds perspective of life after Brown vs Board of Education)
Growing up Global: Raising Children to Be At Home in the World – Homa Sabet Tavangar
White Men on Race – Joe Feagin & Eileen O'Brien
What Are All the Black Kids Sitting Together in the Cafeteria – Beverly Daniel Tatum
African American Firsts – Joan Potter
Race: A History beyond Black & White – Marc Aronson
I would love to hear about your favorite parenting books. Comment below!
xo – Bar