Brazil is an amazingly beautiful country filled with kind and generous people. If you are moving to Brazil, you are in for a varied adventure. We often compare São Paulo to Venice California. São Paulo has a stunning art scene, amazing variety in food, dog-friendly sidewalk cafés, great music, and a local population that makes this cosmopolitan city feel like a small, close-knit town. Central São Paulo is full of gorgeous art-deco buildings, world-renowned architecture and offers multiple, fast transportation options. If the buildings and bustling sidewalks and streets weren't enough to remind you of New York, São Paulo is also very walkable and is home to Latin America's largest urban park, Ibirapuera Park. The communities resting on hillsides and around the cities are home to some of the most caring and hardest working people in the country. This vernacular architecture itself conveys the resourcefulness and determination of its inhabitants and has similarities to communities in Southeast Asian countries. São Paulo has so much to offer.
Brazil is the 5th largest country in the world, similar in size to the US. If you are visiting or moving to Brazil, you should be pleased to know that you can find just about everything you need here. In some cases, the products even match or beat what you might find elsewhere, i.e.: furniture, textiles, stainless steel. We live in central São Paulo and it's rare that we can't find what we need. However, our specific attention to health and lifestyle does mean we bring some items into Brazil. Determining what to pack boils down to knowing what we can and cannot live without. 
When we moved to São Paulo, we lived in hotels and AirBnBs for three months until we secured a lease on an apartment. As we knew in advance that this would be the case, we packed what we would need for only a few months. Previous international moves taught us that taking an additional trip(s) to retrieve the rest of our stuff was cheaper than shipping through any service. We found this especially true for Brazil.
Moving to Brazil – How easy or difficult is the move?
As I mentioned, because of help, our move to Brazil was relatively easy. Our move was also easy, in part, due to how we travel. We document what works and what didn't work with travel and try to make improvements for future trips. When relocating, we only bring what we can carry in baggage that we can check or carry-on the plane. If we can't bring it on a plane, we don't move it. I understand that they are exceptions as in permanent relocation as I talk about in my Moving to Lisbon article. Moving to Brazil was unexpected for us, so we wanted to wait and see how we loved it after a year or two before moving larger items. 
Mistakes will happen
We don't often find ourselves surprised when we travel, but it has happened. While doing a solo move with 250 pounds of household items on AirAsia, I mixed up my pounds to kilogram conversion and ended up paying an additional 3,000 MYR (750 USD) in baggage fees. To put the fee into perspective, we had a lovely condo in the center of Kuala Lumpur for 3200 MYR a month, so my baggage fees were equal to one month of rent. AirAsia is particularly punitive with sloppy travelers who fail to plan. My empathetic agent had never seen such a failure in miscalculation as mine. He was clearly having a hard time processing how much he would need to bill me. I found myself consoling the agent as he wiped his brows while processing my baggage fees.
Were it not for my mistake, I could've moved our household items in two plane rides for less than 100-200 USD (400-800 MYR). Even with my 750 USD mistake, we spent less than we would've spent hiring a moving company. My recommendation is to give yourself an allowance for error and don't let it frustrate you too much if you use that allowance. I think of moving like home repairs; always mentally prepare for an extra 20% to be added to any quote or fee.
Scouting Trip to São Paulo: What did Brazil offer?
An initial trip survey/scouting trip can be useful to know what to pack if you are thinking about moving to Brazil. Visiting clothing stores, grocers, and pharmacies to check food and product availability will help you understand what to bring or buy in BR. When traveling to new places we look to see how open the city is to change and growth from a health, financial and environmental positions. We will likely enjoy a city if we see a diverse population, food variety, LBGTQ communities, green packaging & recycling, and natural health & home products.
Initial Move to São Paulo: What we Brought
We packed what would need for our first 3 months of living in Brazil. 300+ pounds in bags with three travelers carrying a total of six, 50-Lb (22.5kg) (Samsonite Tote-a-ton 32″ Duffle) bags plus carry-ons. Here's what we brought on our first move trip.
Red = Didn't find in São Paulo or elsewhere in Brazil
Green = Available in Brazil at a decent price

Computer gear, microphones, mice, mobiles, headphones, Wacom tablet 

Summer clothes and shoes 

Art supplies. Certain pro art markers and pencils are hard to find in BR 

Jellycats

and other stuffed animals

Games

125 pounds (57kg) of slime products of our daughters

Basic set of

tools

, headlamps, camping lantern

USB cords

,

extension cords

with

universal plugs

Multiple stainless steel water bottles

Bose SoundLink Mini Bluetooth Speaker II

OREI most of Europe 2-input travel plug adapters

Health supplies like

medicines

,

green drink powders

,

Epsom salt

,

vitamins

, several boxes of

Spry fluoride-free toothpaste,

calcium carbonate

,

magnesium sulfate cream

,

buf-puffs

,

bamboo toothbrushes

,

reusable menstrual pads,

and

menstrual cups

. 

Face and hair supplies, make-up, and styling tools

Baking soda

,

Castile soap

, and

Borax

Our preferred pillows and a few cozy blankets

Some kitchen tools like

metal straws

,

wine stoppers

,

bag clips

Sonicare toothbrush

Waterpik flosser

A rolling shopper 

Baggu grocery totes

Spry Gum

Beard trimmer and electric shavers

Harry's razor

and blades

Portable chargers 

Stainless steel coffee press

. Stainless steel presses are $$$ – usually only glass or plastic.

Textbooks

for online classes

Musical Instruments and books. They are expensive here, so best to bring if you play.

Washing soda

and

Oxiclean

. It literally took months to find a scent-free, chem-free laundry product.

Bragg Liquid Aminos

 

Peanut butter

The selection is thin in BR. Grab it when you travel. Brands have disappeared never to return.
Can you find everything you need in São Paulo?
No, and yes. Many items are made here and those things are great or at least good enough. But, items that can't be produced in Brazil are imported and often twice the normal price. The Brazilian government wants to encourage people to buy locally so it imposes high import duties. It's pretty unfair to impose extreme taxes on, for instance, Apple products when Brazil doesn't even manufacture anything similar. Those who can afford to buy in another country, will.
Items We Are Glad We Brought
Washing Machine Soap.

It took 8 months to find a fragrance-free, laundry product in SP.

Musical Instruments.

Strings, books, and parts are expensive and the selection isn't great.

Games
Apple devices.

Apple computers are 2.5x more expensive in Brazil. Brazil is the most expensive country to buy Apple products in the world. If you are a diehard Apple supporter, it's worth buying / refreshing your Apple products outside of Brazil.

Scissors

. If good scissors matter to you, bring them. 

A Can Opener.

Brazilian can openers are similar to P-38 openers in the US military but not as good. Canned foods are not that popular in BR, so this is not a huge deal. However, if you can't live without imported Campbell's soup, bring a can opener with you. Can openers not made in Brazil can be found, but they are expensive. 

Good kitchen knives.

If you are particular, bring your own. Finding a decent import is possible, at least in SP, just expensive.

Clothes and Shoes

. If you have size requirements or like minimal shoes, bring them. However, there is a shoe store on Oscar Friere that caters to men and women with larger feet.

Hairdryers and styling tools

. (120v in São Paulo)

Certain Medications.

The medicine available in Brazilian pharmacies is fantastic and often without a prescription. If you rely on a certain brand or quantity of product, bring it. This will give you a window of time to figure out what works for you in BR.
We visited many stores to find what we needed and it took many months to find products like glue, containers, and scent-free detergent. I'm glad we brought several months' worth of supplies.
Supply Runs
Visiting other countries offers a chance to stock up so bring an extra bag or two to take advantage of the costs and availability. Keep a running list of what you need and take the opportunity to spend less. Here's a partial list of items that we couldn't find in Brazil that we looked for on our travels.
Available in BR at a decent price = Green
Dehydrated hummus, soups, and refried beans

Epic Meat Bars (or other good air travel snacks) 

supplements or medicine not available in Brazil

Non-toxic or cool nail polish

 

World's Softest Comfy slippers

Microscope (impossible to find a good one for a good price in BR)

Cotton robes. Lots of polyester in BR

Deodorant w/o aluminum or antiperspirant

Tyr swim goggles. Tyr is not sold in BR.

Wallet or rugged, brand-specific cell phone cases 

Down or alternative down comforters & duvets. Expensive in BR.

Cotton jersey bed sheets 

Sports briefs for women. 

Glide and silk dental floss. Glide is not imported to BR that I saw.

Columbia convertible pants

Spry fluoride-free toothpaste

Soft density pillows with down or alternative down

Harry's razor refills

Kitchen scissors

Clothes updates from stores not in BR

Collagen Hydrolysate Beef

Minimal shoes

Sports equipment beyond what can be found at Decathlon

Kishu Binchotan Charcoal sticks for water

Braggs liquid aminos

Hemp Oil for our dogs

Gluten-Free or Keto pancake mix

MCT Oil

Elmers Glue

A good packing tape dispenser. Never found a good one in SP.

Candy: Junior Mints, Justins, Swedish Fish. We like to buy extra candies to share with others.

Body lotion without parabens

. 

Pet carriers, leashes, and special treats.

Pets are a top industry for Brazil, so there's no shortage of supplies. Still, treats help occupy our excited dogs while we unpack. Even pets love a present.
Supply Run list: Other recommendations
A food dehydrator

Cast iron skillet

Blendtec or Vitamix Blender

Sewing machine

Jewelry making supplies

Scooter

Books or other learning tools
Getting Brazilian IDs (RNE): The Process
In December of 2018, our family went to the Federal police Building for ID's (Registro Nacional de Estrangeiros (RNE). The process took six hours with the help of Despachantes, or dispatchers that help foreigners navigate Brazilian Bureaucracy. Our visit took an extra two hours because a 'supervisor' decided to change the sex of one of our children. This happens we hear. Considering how many people re-entered our data, I'm surprised there was only one error. Four months later in April, we received a call that our IDs were ready for pick-up at the Federal building. Once at the Federal Building, we notice that 'someone' had AGAIN changed the sex of one of our children. This error meant restarting the ID process for our one family member from scratch. No apologies. No expedited process even though the mistake was theirs. It was another three hours at the Federal building to reprocess the application.
Nearly 10 months after registering, we finally received the correct ID for our child, but the renewal date wasn't extended. An ID that should've been valid for 2 years was now only valid for 14 months. Their mistake meant that we would enjoy repeating the same shitty process all over again even sooner. I wonder if the renewal process is easier. KKKKK!!! (That's how Brazilians LOL)
Getting help in Brazil: Despachantes & Moving Teams
Our move to Brazil was fairly annoyance-free, partly because of how we travel but mostly due to having a team to assist with relocation. Relocating to Brazil is not easy so having help with visas, flight arrangements, accommodations, IDs, apartment rental, was important.
It was also necessary to get help to open bank accounts and obtain credit cards. Friends of ours who have lived in Brazil for years were still without bank accounts or credit cards because it's difficult to obtain. However, banks like Nubank are making it easier to get credit cards in Brazil.
Much of our positive outlook on Brazil can be attributed to the support we received during our move. So if you are moving to Brazil without fluency in Portuguese, I highly recommend getting help. Trying to sort through the bureaucracy alone would not have been pleasant and maybe even possible. 
Advice to those considering relocating to São Paulo?
Adults sometimes have expectations wrapped around what things 'should' be. The imperfect and broken sidewalks in so many countries could be really irritating to people used to perfect sidewalks. Obviously, someone needs to think about these improvements, but is the ex-pat new to the country the best person for that role? Try to let go of tight expectations and go with the flow.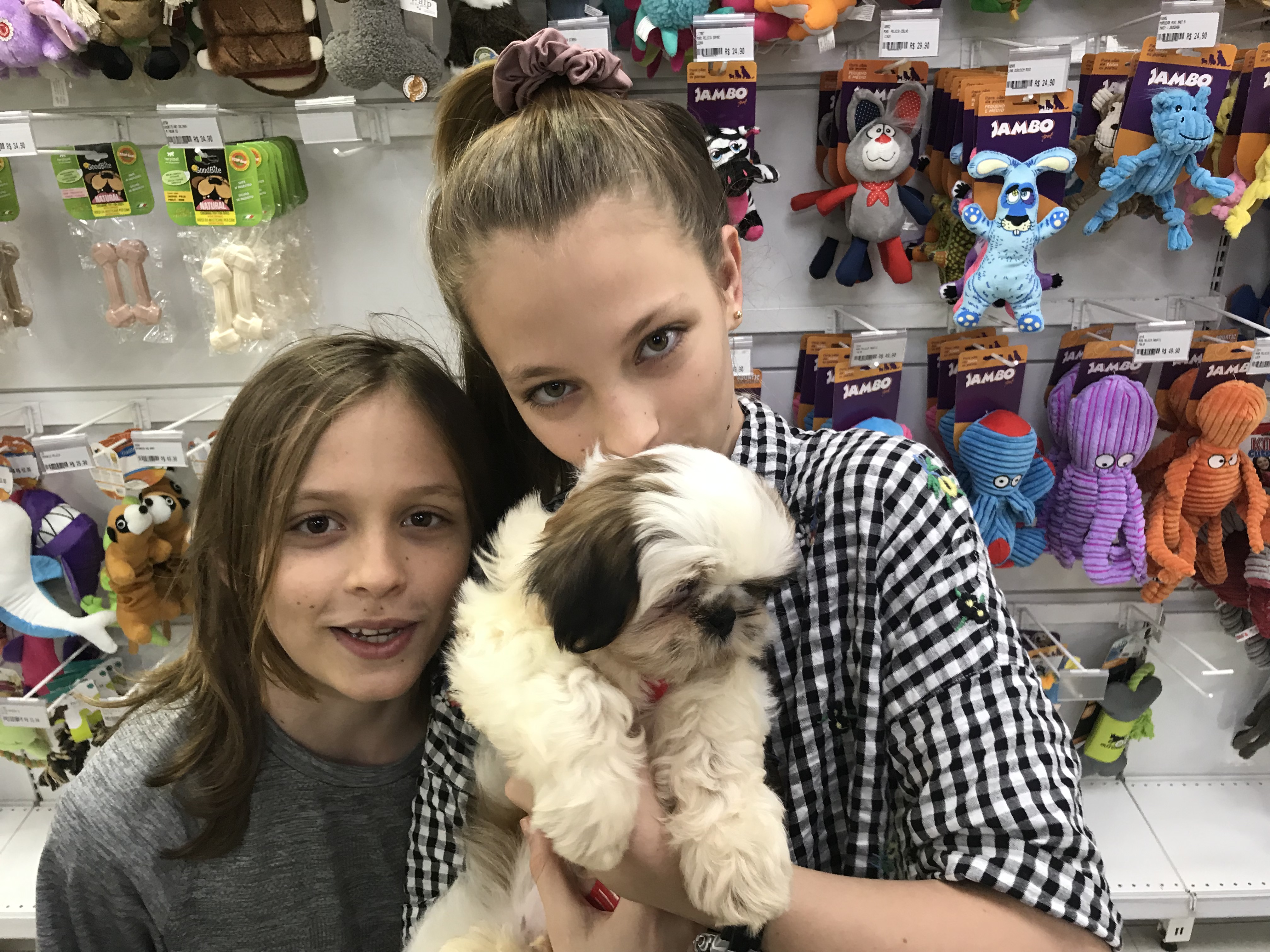 Our kids understood the pros and cons of a move to Sao Paulo. One thing they knew was that moving to Brazil meant they would get a puppy! So, they saw the potential for personal gain, but on the whole, they really had few expectations. Kids are excellent role models for us adults as they are often more buoyant and resilient in the face of change. Reduce poorly preconceived notions and set your expectations appropriately.
What was the hardest part about relocating to Brazil?
Brazil is a Portuguese-speaking country. Some Brazilians do learn English in school, but many people we encountered only spoke Portuguese. Portuguese is a beautiful language that we were all excited to learn, but it's not an easy language so it takes more time to learn. If you are moving to Brazil or planning a long visit, start practicing Brazillian Portuguese early.
As an aside, google translate doesn't handle BR Portuguese very well. I recommend finding a different solution like Deepl. Brazilian Portuguese doesn't always translate word-for-word. If you are going to use Google translate, you should translate the Portuguese sentence back into your native language. Only then will you see that you used slang or language that isn't common. After a while, you will start to see what English words (for example) Brazilians or the app itself has greater famility. BR Portuguese relies heavily on context and for added fun, Brazilians initialize a lot of words. For instance, 'fds' means 'final de semana' which means 'weekend'.
Study Portuguese and Produce in Portuguese
We started Portuguese lessons before we moved to Brazil and have taken weekly lessons along with using Drops, Duolingo, and Rosetta Stone. One year later, most of my family is conversational, but only our daughter is nearly fluent. She practices Portuguese for hours a day. She does consume content (Instagram and youtube) but most importantly, she produces content in BR Portuguese. She learned from the corrections and the criticisms of anyone who watched her and kept producing and learning. If you are moving to Brazil, start working on your Portuguese and work hard on it once you arrive. Even if you are working for an English speaking company, the water cooler talk is in Portuguese. Study and produce.
What one piece of advice would you give to someone that is relocating?
Sell the big stuff and don't ship anything. Bring what you can on your flight. We have never shipped anything internationally only by the plane we were using to get to the next place. Even if you pay extra bag fees, it will be cheaper. Even if you have to take a couple of flights to move all of your stuff, it will be cheaper. If you ship items to Brazil, you will be taxed an unreasonable amount. There's no good way to anticipate shipping costs to Brazil, you only need to know it it will be far more expensive than you are initially told. If you are moving to Brazil, why not save those tax expenses and instead buy yourself some gorgeous Brazilian furniture. The furniture in Brasil will rival your favorite top brands. And the reproduction Eames furniture (if you're into that) is abundant and good looking.
As composer Antonio Carlos Jobim once said, "O Brasil não é para principiantes" or "Brazil is not for beginners". If you are moving to Brazil and you have any further questions for me, hit me up. It's a fantastic country and so beautiful! Go in with an open mind and a willingness to learn and you will understand and love Brazil. Let me know your experiences! Brazil! What a ride.