So you're moving to Lisbon, congratulations!! Lisbon is, so far, one of my favorite cities I've lived in. Lisbon has all of the standard great things that a big city can offer like museums, great food, cheap and delicious wines, dog-friendly sidewalk cafés, and great music. I never grow tired of the architecture from the churches built many centuries ago to the beautifully tiled past-century buildings. Lisbon has a wonderfully diverse population and is the most intercultural city that I have experienced. My favorite thing about Lisbon is the people that make this old European city feel like a small, friendly village. I also love that there is no reason to own a car in Lisbon with the metro, trains, trams, charming trolleys, buses, funiculars, and lifts. But with such beautiful sidewalks, walking is a pleasure. Lisbon never runs out of ways to stun and surprise.
Portugal is a country that is slightly smaller than the state of Virginia in the US. In spite of its size, if you are visiting or moving to Portugal, you should be pleased to know that you can find just about everything you need here. When you can not find it in Portugal, you should be able to find it online somewhere in the EU including Amazon-Germany or Spain. From Lisbon, Porto, or Faro, it is a quick and affordable flight to many European cities, so shopping on vacation is possible with checked baggage.
Scouting Trip to Portugal: What did Lisbon offer?
We took an initial trip to Lisbon to see if it would be a place we might like to live. On our scouting trip, we visited clothing stores, grocers, and pharmacies to check out food and product availability. Lisbon was immediately an easy city to be in. A few things that were important to us were a diverse population, wide variety of food and dining, recycling, natural health stores, and walkability.
The Move to Lisbon: What we Brought
Determining what to pack boils down to knowing what we can and cannot live without during the first months. In our case, the move happened during summer and during a pandemic and we knew we wouldn't be able to travel back to the US for another 6-15 months. Fitting a year's worth of needs, including two seasons, into seven bags was not easy. In the end, we prioritized our technical gear, and tools including cabling, clothing, shoes, pet supplies, and health products, opting not to bring cold-weather gear because it took up too much physical space in our bags. Let me tell you, that the first winter was especially cold and I never did find a jacket that I liked that was warm enough. I should've left much of the hair and skin product behind and brought one good coat for each of us! All totaled, four of us brought ~330 pounds of stuff in seven 50-Lb (22.5/kg) bags plus carry-ons, a dog carriage, and two dogs in carriers.
Here's what we brought on our first move trip.
Computer gear, microphones, mice, mobiles, headphones, Wacom tablet, portable printer, travel speaker, hard drives
Summer, comfort, workout, and work clothes
Nearly all of our shoes because we have larger feet and prefer minimal shoes
Art supplies (pens, pencils, paint brushes)
Tools
USB cords, extension cords with universal plugs, cables, travel plug adapters
A few stainless steel water bottles
Health products like medicines, green drink powders, vitamins, several boxes of fluoride-free toothpaste, and reusable menstrual pads and cups. 
Face and skincare products, hair products, perfume, and make-up
Two of our preferred pillows and one small blanket
Some kitchen tools (wine key, lemon squeezer)
Sonicare toothbrushes
Portable Waterpik flossers
Baggu grocery totes
Beard trimmer and electric shavers
Harry's razor and enough blades for 1 year
Portable chargers 
Stainless steel coffee press
Textbooks for classes
Violin
Laundry detergent (3-month's worth)
Skateboard and Longboard
Pet snacks, dog food, pee pads, bedding, and a dog cart
Kishu Binchotan Charcoal sticks for water
Can you find everything you need in Lisbon?
Pretty much. We haven't had a hard time finding anything including electronics, gluten-free foods, low-chemical household products, fluoride-free toothpaste, aluminum-free deodorant, coconut flour, hot sauce, and specific brands we might prefer. Prices can, at times, be more expensive in the EU due to import fees, but at least 99% of the time, we can find what we need. The only issue so far has been finding one prescription medicine in Portugal, however, Metropolitan pharmacy in Germany ships. Apple products and tech gear can be more expensive in Portugal. The most affordable place to purchase Apple products is Switzerland.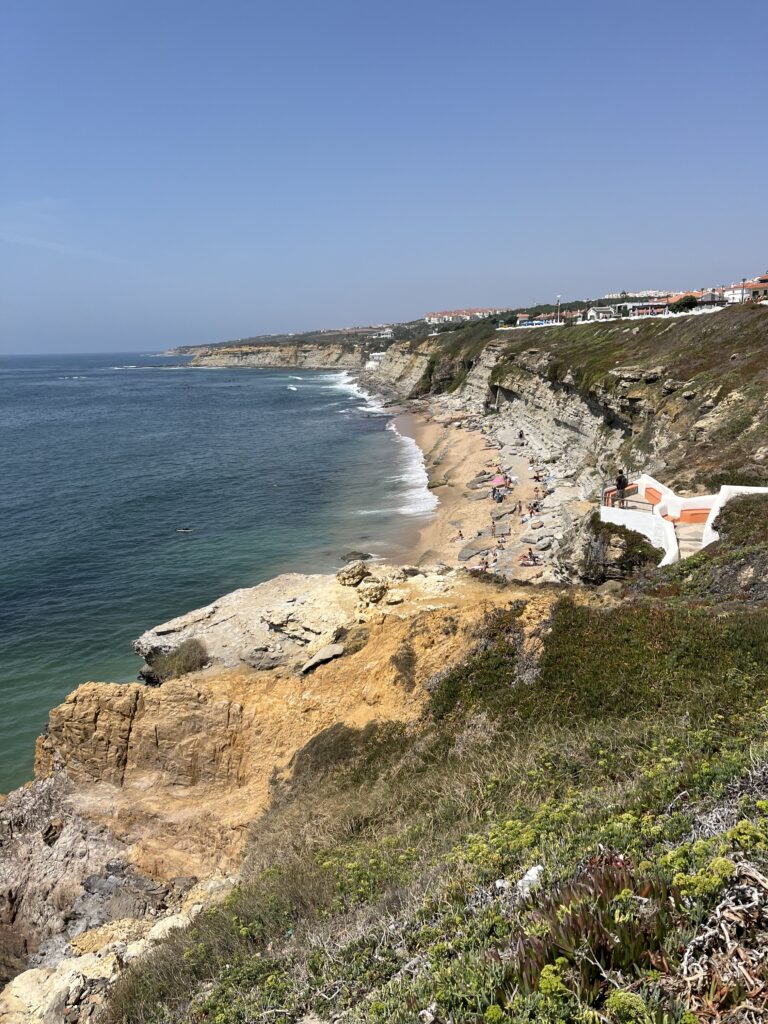 Many items we could have left behind, but there are some things we're happy we brought with us.
Musical Instruments, strings, and music books.
Apple devices.
Shoes. Again, we prefer minimal shoes and need larger sizes that are not common in stores.
Medications. It's a good idea to bring several months' worth of medication. Most medicine is available in PT however it comes in blister packs. You won't find bottles of 500 tablets or even 50 tablets of anything here. There is no Benedryl, no melatonin, Neosporin, hormone creams, or certain adaptogens and vitamins.
Our dogs' stuffable bed and their dog cart. Dogs need a sense of stability and comfort to adapt to change and new surroundings. These two items were very comforting to our dogs.
Bringing as many clothes and things that we could manage for our teens made the transition easier for them.
Small items not sold here: Harry's razor blades, Baggu bags, and some books in English.
Longboard (needed oversized baggage)
Supply Runs
Visiting the US or other countries is a great time to pick up supplies that we can't find in Portugal. In the US we visit great thrift stores and get a whole new waredrobe for the year! We also bring more of our items back to Portugal and restock our medicine bag and pantry. Carrying an extra foldable bag or two allows us to take advantage of the resources in the countries we visit. Here's a partial list of items that we might look for on our travels that are difficult for us to find in Portugal.
Used clothing and accessories. The thrift stores in Lisbon are not great and they are overpriced.
Good pillows are weirdly expensive here, ~80 euros++.
Harry's razor refills from the US.
Clothing from stores that aren't in the EU like Old Navy, Lululemon, Athleta
Minimal shoes
Sportswear or equipment that isn't at Decathlon
Candy: Junior Mints, Justins, Swedish Fish, Sweet tarts, red hots, mike & ikes, butterscotch, laffy taffy, milk duds, . Bring extra candy to share with others.
Pet treats. A plus, treats help occupy excited dogs while you unpack. Even pets love a present.
Specialty or unusual food items like:

Jerkey (beef, ostrich) and Epic bars
Jiffy cornbread muffin mix
Ranch powder dressing
Cheez Its and Goldfish crackers
Talki's
Velveta (not me, but I hear people desire it or gift it)
Pumpkin pie spice
Louisiana and Mexican specialty hot sauces or spices
Pecans
Graham crackers for Smores! Truly American
Sour cream and onion Lays chips
Everything but the Bagel seasoning from TJs
Dehydrated hummus and dehydrated soup (this is just my thing)
Chocolate (like Tony's from Amsterdam)
Rootbeer (also truly American)
Good BBQ sauce
Old Bay seasoning
Unusual Oreos flavors or unusual cereals
Sunflower Butter
Unique liquor
Bagels (if possible)
Getting help in Lisbon: Moving Teams
Navigating the bureaucracy of any new country can be confusing, especially in a different language, but our move to Portugal was one of our easiest international moves yet. Our move happened during a pandemic, so having help was even more useful to us.
The first item of residency to get is the NIF (Número de Identificação Fiscal or Número de Contribuinte). The Fiscal number or 'Contribuinte' is your tax ID number and it's a fairly straightforward task to obtain a NIF. The next important task will be the SEF (Serviço de Estrangeiros e Fronteiras) which is a residency ID card. To qualify, one must have a lease that is good for one year. NHR (Non-Habitual Resident Status) grants expatriates/immigrants in Portugal a 20% tax rate or a total exemption on the taxation of income for a period of 10 years.
Having a translator help through the NIF, SEF, and NHR processes can make things easy for everyone involved, though it is possible to do these things without help. Opening a bank account and getting credit cards is pretty straightforward and easy enough for a foreigner to manage on their own.
Getting Portuguese IDs (SEFs): The Process
We received a D2 visa and all SEF (residency appointments for ID cards) appointments while in Portugal, but most people go through this process in their home country and perhaps for the more common D7 visa. The team helping us made our appointments and we had three full months to get all of our documentation together, which was actually a little tight due to staffing issues during the pandemic. Our SEF appointments were at the SEF office in Cascais and went smoothly, but these appointments can sometimes happen in cities much further away – you take what you can get. The physical temporary residence cards arrived after one week. The cards showed up within 2 weeks. There were no errors on our documents or cards. Residency is good for two years, then renewed for 3 years online at the 2 year mark. After 5 years, we will be able to apply for permanent residency or citizenship.
What was the hardest part about relocating to Portugal?
Switching from Brazilian Portuguese to European Portuguese was a challenge. It took only a couple of weeks to start saying words in a more Euro Portuguese way, however, there are many different words to learn and the grammar rules are a little different, so that took longer. Still, if we didn't already have a foundation in Portuguese the most difficult part about moving here would have been learning Portuguese from scratch and that is much more challenging.
Study Portuguese and Produce in Portuguese
As mentioned in Moving to Brazil, take European Portuguese lessons before moving to Portugal. I recommend a combination of tools like Workbooks, Memrise, Youtube, PracticePortuguese, Toucan Browser plug-in, watching media dubbed and/or subtitled – I could go on. Along with these, I believe the very best way to learn Portuguese is to create content in the target language by writing essays, making videos, and blogging in the target language. Create and consume content in an area that interests you or that you need expertise. If you publish your works, people generally will kindly correct you and even help you with how things are said in the real world.
If you are moving to Portugal in one month or in five years, start working on your Portuguese now and continue to work on it once you arrive. Even if you are working for an English-speaking company, the water cooler talk is in Portuguese. And if you plan to obtain permanent residency or citizenship after five years, you will need to pass a test showing A2 level of speaking and understanding of Portuguese. Of course, many Portuguese people have a decent and sometimes astonishing comprehension of English, but if you will be living here, you should learn the language.
What one piece of advice would you give to someone that is relocating?
If this is a permanent relocation for you, I recommend shipping the things that you love like albums, art, books, kitchen supplies, smaller items, and only dual voltage electronics. If you are considering an invertor for electronics, just know that they are only recommended for low voltage and low current items. People will tell you they use an invertor with their Vitamix or Blendtec blenders, but it's not a good idea. Sell the high-powered blender where you are and buy a new one in Portugal.
Do a cost-benefit analysis on the items you will bring and check Portuguese online stores to see if it's worth the trouble and expense. Take on your flight what you will need to be comfortable for a few months. In all of our international moves, we have been able to bring everything we need on our flights, however we have storage in the US, are not collectors, and we're fairly minimalistic.
How Easy is a to Move to Portugal?
Portugal was not our first international relocation, but it was the easiest. Those who have never done an international move may still find a move to Portugal daunting. If it's your first move abroad, you might benefit from hiring professionals in Portugal to help coordinate apartment/home searches, schedule appointments, translation, and set up services like water and electric. You will still have plenty to do like obtaining current FBI reports, apostilled birth certificates, apostilled marriage certificates, school enrollment forms (if you are attending), and apostilled degrees (if working or homeschooling), plus others potentially depending your situation. Additionally, certain documents will need to be translated to Portuguese. Managing the paperwork and deliverables is a lot of work, and there is no shame in getting help where needed.
If you are considering or planning a move to Portugal, you will LOVE it here. I hope this list has been useful. If you have already made the move to Portugal, what did you bring that you couldn't live without? Please share with us in the comments!