My current reading list containing books that I'm eager to read and several favorites that I'd read again. This book list is mainly for me to have a central, easy location to access this information before I started using Goodreads. Several suggestions littered throughout this page are pulled from fellow books recommend by Willow and Birch's lists. Visit our other booklists for kids/teens, Zero Waste/ Minimalism, Parenting and Unschooling/Homeschooling.
Business and Psychology
The Talent Code: Greatness Isn't Born. It's Grown. Here's How
Training the Samurai Mind: A Bushido Sourcebook
Essentialism: The Disciplined Pursuit of Lessby Greg McKeown
The Power of Rest: Why Sleep is Not Enoughby Matthew Edlund
Sway: The Irresistible Pull of Irrational Behavior
Games Primates Play by Dario Maestripieri
Leaders Guide to Radical Management
Crossing the Chasmby Moore
Scarcity: Why Having Too Little Means So Much
US Payment Handbook by Ben Love
Screw Business as Usual by Richard Branson
No Surprises Project Management: A Proven Early Warning System for Staying on Track
Getting More: How to Negotiate to Achieve Your Goals in the Real World
The Magic of Reality: How We Know What's Really True (iPad)
User Stories Applied: For Agile Software Development
E-Myth revisited
Tribal Leadership
So Good They Can't Ignore You by Cal Newport
A Failure of Nerve: Leadership in the Age of the Quick Fix by Edwin H. Friedman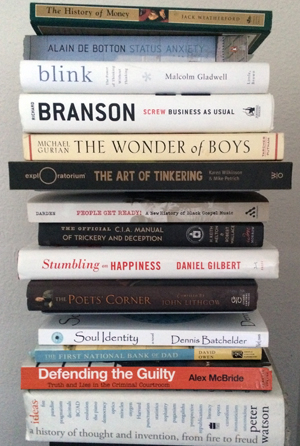 Economics
Economic Calculation in the Socialist Commonwealth by Ludwig von Mises
Carl Menger and His Legacy in Economics (History of Political Economy Annual Supplement) by Bruce J. Caldwell
Classical Economics (Large Print Edition): An Austrian Perspective on the History of Economic Thought, Volume 2 by Murray N. Rothbard
The National Bank of Dad
Gardening
A Children's Garden: 60 ideas to make any garden come alive for children by Molly Dannenmaier
The Family Kitchen Garden by Karen Liebreich
Other Book List Reads
The Magic of Matsumoto: The Suzuki Method of Education by Cr. Carolyn Barrett
Bad Feminist: Essays by Roxane Gay
Status Anxiety by Alain de Botton
The History of Money by Jack Weatherford
A History of Thought and Invention, from Fire to Freud by Peter Watson
The Poet's Corner by John Lithgow
Fresh Fruit, Broken Bodies: Migrant Farmworkers in the United States by Seth Holmes, Philippe Bourgois
Heaven on Earth: A Journey Through Shari'a Law from the Deserts of Ancient Arabia to the Streets of the Modern Muslim World by Sadakat Kadri
The Trial, a History from Socrates to OJ Simpson by Sadakat Kadri
Freemasonry by Giles Morgan
Money for Nothing by PG Wodehouse
A Short History of Ancient Times by Philip Van Ness Myers, part of the History At Our House series
Parallel Lives: Five Victorian Marriages by Phyllis Rose, David Schorr, Carin Goldber
Religion for Atheists: A Non-believer's Guide to the Uses of Religion by Alain De Botton
I don't update the book list here as much. Join me over at Goodreads!
xo- Bar