Minimizing plastic waste is a relatively easy way to reduce your carbon footprint while traveling. Air travel emissions account for our families greatest environmental spend, so we love that our efforts to avoid plastic go along way in reducing our impact and leaving no trace in the cities we visit.
Travel and Reduce your Carbon Footprint by Minimizing Plastic Waste
In Asia, grocery stores LOVE pre-wrapping fruits and veggies in plastic film, so minimizing your plastic waste will take commitment and rigor.  If produce isn't already wrapped in plastic and priced, the produce you select will be bagged in plastic, weighed, closed with plastic tape and given a price sticker (trash) at the produce counter before taking to checkout. In the United States, most of my food came from the produce section, but in Asia, I avoid the produce in grocery stores unless I have no other options. Instead, we get our fruit from nice street vendors or small shops. Give yourself time to adapt to find work arounds. Be patient with yourself.
Tools to Avoid Plastic Waste
A utensil bag helps avoid single-use plastic waste when eating out. My utensil bag contents vary, but are always some version of the above image. Good tools for the utensil bag include: metal or bamboo straws, spoons and forks, chopsticks, a napkin, chemical-free soap, and sanitizer.
2-4 reusable totes or bags. Baggu bags are my favorite and I've had a few of mine about 10 years. I bought a couple of knock-off Baggu bags in Chinatown in KL and they lasted only a few months. The real deal is worth it.
1 or 2 reusable water bottles filled with water.
A container for leftovers. I prefer stainless steel but will carry a plastic container if I need to lighten my load.
Carry a mug, thermos or glass for coffee, chai or to go drinks.
Produce bags or paper bags, if I have them and I'm going to a store that insists on them.
Reducing Plastic when Eating Out
When ordering a drink, request "No straw". Understand that your request will be remembered maybe 40% of the time and don't let it get to you.
I intentionally order drinks that wouldn't come with straw like beer, tap water, green tea or coffee.
Use your own container for leftovers.
Order less food. You can always order more.
Reducing plastic while Shopping
If you do use the plastic produce bags, reuse them. Tie them off to avoid having the produce bags taped closed.
Choose items sold in glass jars or paper versus plastic packaging.
As mentioned above, shop local fruit stands instead of grocery stores produce areas. The prices will be better and you can shop plastic free. My favorites in Kuala Lumpur include JY Fruits and Vegetables near Hock Choon Market and Jalan Alor Food Street.
Shop small, local stores and use your own containers for items such as meat, cheese and ice-cream. A favorite in KL that lets us use our own containers is Bottega Mediterranean
Request no plastic bags and no plastic proof-of-purchase tape at the beginning of your checkout. Proof-of-purchase tape is often placed directly on purchased items, which must be removed by purchaser later before recycling because the tape can gum up recycling machinery.
Search for zero waste or bulk foods on Google and Facebook when you get to a new city
Search vegetable markets or farm to table delivery vegetable subscription boxes for longterm stays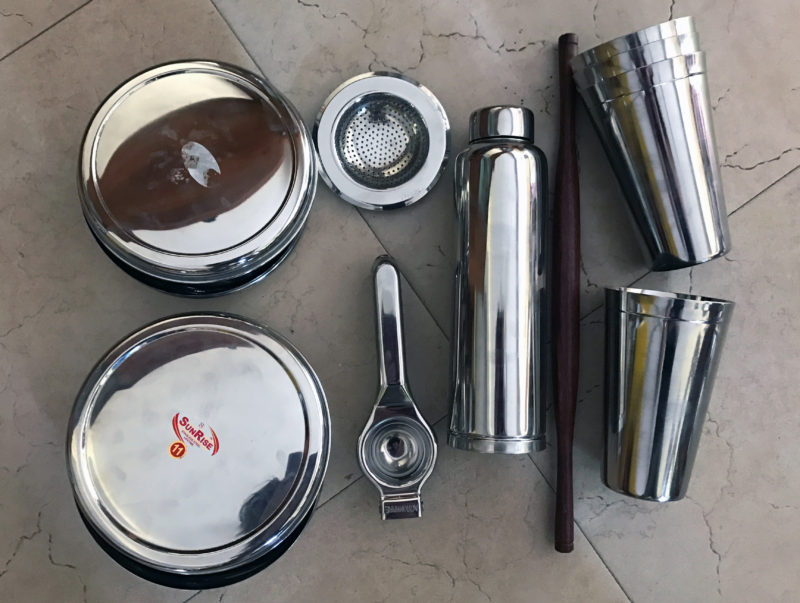 Water
If your place has a kettle, boil water vs. buying plastic water bottles
Be aware of potable water refill opportunities
When eating out, remember to fill your water bottles with any unfinished filtered water
I'd love to hear your tips for creating less waste and avoiding plastic waste while you travel. If you've come across and zero waste friendly stores or restaurants in SE Asia, please feel free to pass along in the comments!
xo – Bar!